Hospice Palliative Care and Support
One-to-One Support
Hospice volunteers are compassionate individuals from the community who are committed to the Hospice philosophy, and offer comfort and emotional support to the dying person, family and friends, and will respect their beliefs, values and privacy.
Visiting volunteers are available to support individual patients and/or the patient's family, wherever "home " is, be it in hospital, in long-term care, McKinney Creek Hospice, or a patient's own home.
A volunteer's primary role is to offer emotional support, companionship and an open, non-judgmental listening ear as family's face this often difficult time.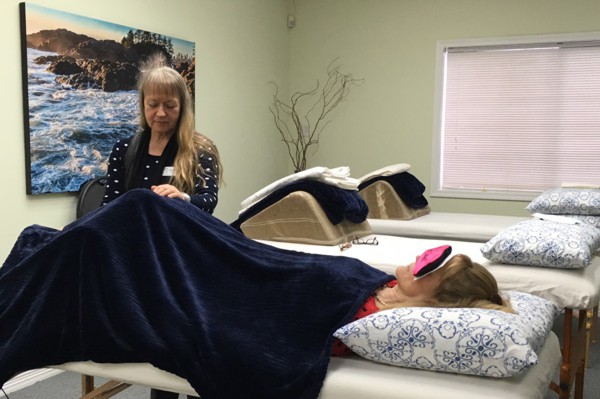 Relaxation Circle
A free group support program that uses guided imagery and Healing Touch to help individuals who are living with a life threatening illness, their caregivers and bereaved individuals. The program induces a deep state of relaxation, to help cope with emotions, anxiety and pain; relaxing the body and mind to enhance quality of life.  Contact Lindsey at 604-463-7722 or lindsey@ridgemeadowshospice.org for more information.
Resources and Lending Library
We are available to help navigate this time in people's lives, and our staff and volunteers can help families access the information and resources they may need.  We also have an extensive lending library of books and videos to help with serious illness and grief and loss.
McKenney Creek Hospice Residence
Volunteers are available mornings, afternoons and evenings for residents and family of McKenney Creek Hospice.  Our volunteers offer support, practical assistance and programs such as relaxation treatments, life story recordings, memory bracelets etc.

McKenney Creek Hospice Residence was made possible through an agreement between Fraser Health and the Ridge Meadows Hospice Society. Fraser Health provided space in the CareLife building adjacent to Ridge Meadows Hospital and ongoing operating costs for 10 beds, while the Society agreed to raise funds to provide the needed equipment and all the furnishings to make the residence home like. Thanks to the generosity of our communities, the Society was able to complete our commitment in just over 2 years. McKenney Creek Hospice Residence opened October 17, 2006.
The Society provides volunteer support for the residents and their loved ones 7 days a week.
The McKenney Creek Hospice Residence is located at #100 – 11762 Laity Street, Maple Ridge BC.