Founded in 1980
The Ridge Meadows Hospice Society is a registered not-for-profit charitable organization funded through grants, memberships, donations and bequests. It was founded in 1980 when Edna Trethewey, a former public health nurse, realized the need for help for dying patients and their families in Maple Ridge and Pitt Meadows.
She knew that constant, long term care of a palliative patient is extremely emotional and physically exhausting for the home caregiver and that help was needed to give caregivers respite. It was also obvious that families needed a support system during the grieving period.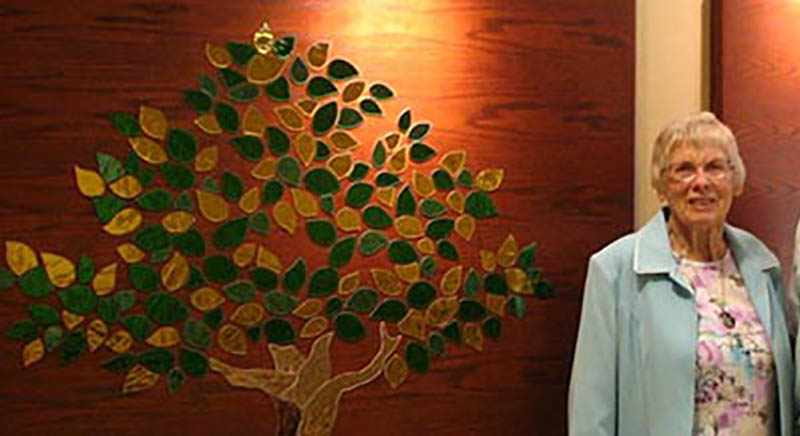 Edna Tretheway, founder of the Ridge Meadows Hospice Society
Edna decided that she wanted to become involved in helping not just patients through the final journey of life, but also their families. In 1980 she went to see both the Director of Nursing of Maple Ridge Hospital and the Supervisor of Home Care Nursing in Maple Ridge. She shared with them her background and training and explained that she wanted to do volunteer work for terminally ill patients. As a result of this meeting, dying patients were referred to her by doctors, nursing staff and home care workers. That was the beginning of "hospice" in Maple Ridge and Pitt Meadows.
Preliminary work was done during the fall months and the Palliative Care Program started at Maple Ridge Hospital in December 1987. The Hospice Volunteers who had been working in Maple Ridge and Pitt Meadows for the previous seven years as part of the Caritas Hospice Society became the volunteer component of the newly incorporated Maple Ridge Hospice Society.
In 1993, Edna, 74 years of age, retired after spearheading the hospice movement in Maple Ridge for which she was awarded a Maple Ridge Hospital award that commended her work with dying patients and their families.
The Society has grown from the early days when Edna worked from her home. There is a volunteer board of directors, made up of people from all walks of life. There are eleven paid staff members and over 120 volunteers involved in board activities, visiting, grief support, general assistance, and the thrift store.
With the Fraser Health Authority as a partner, The McKenney Creek Hospice Residence adjacent to the Ridge Meadows Hospital, opened on October 17, 2006.
We are part of the Hospice/Palliative Care Team of the Fraser Health Authority.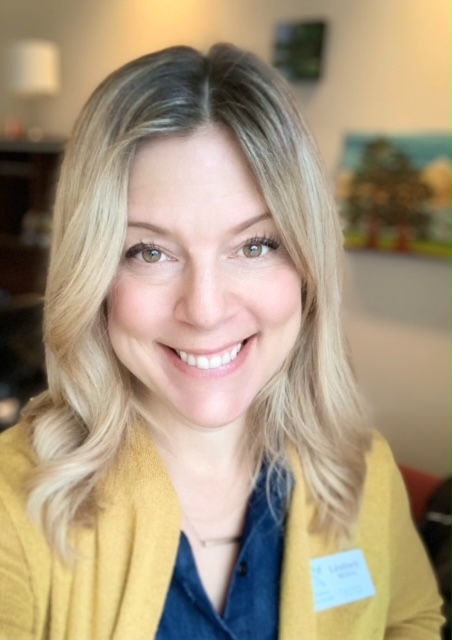 Lindsey Willis
Executive Director
Maureen McKay
Coordinator of Palliative Support Services
Susanne Lamb
Coordinator of Bereavement Services
Michelle Spindor
Administration
Board President – Jason Young
Vice-President – Lindsay Norcross
Treasurer – Lorraine Manyk
Secretary – Leenane Shiels
Director – Ineke Boekhorst
Director – Allen LaRose
Director – Jan Hickman
Director – Laurence Anderson
Director – Adrienne Dale
Check back soon for upcoming career opportunites.
Brochure
Learn more about the Ridge Meadows Hospice Society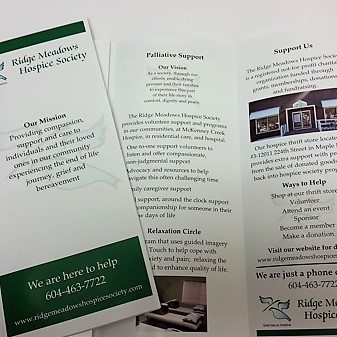 Frequently Asked Questions
How can I access your services?
We can receive referrals by the individual, family, attending physician, social worker or health care provider.
How long will grieving last?
There is no timeline for grief. We never truly 'get over' the death of a loved one, we simply learn to live with the loss. Healing from grief is giving yourself permission to experience and explore your feelings and emotions through this journey of loss.
What is palliative care?
Palliative care is a type of health care for patients and families facing life-limiting illness. It helps achieve the best possible quality of life providing comfort and symptom management.
When can I access support?
Many people access the hospice society earlier in their illness for emotional support and access to our free support programs.
Can family members receive help?
Yes, support addresses the needs of an entire family, including caregivers.
We can help, call our office at 604-463-7722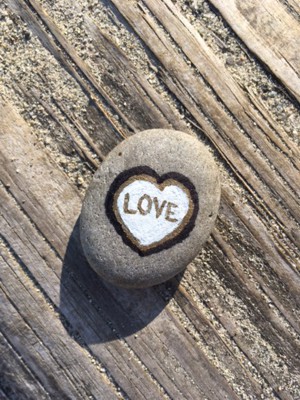 Support Us
A financial investment in the Ridge Meadows Hospice Society is an opportunity to ensure that end of life support for patients and families will be available for all in need.